*Important: These are a few comparisons of LittleRebel dolls resin colors with other companies.
Since the dolls are handmade and produced at different times, each batch can be slightly different in color. Also I have used different casting companies since 2011.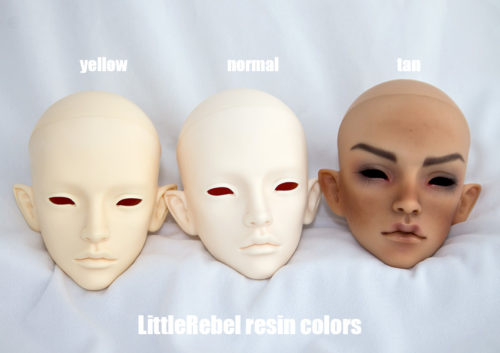 Color comparison
color: NORMAL, YELLOW-normal, peach
LR NORMAL is similar to: Fantasydoll pale normal, Luts normal, IOS normal, DZ pink (*sometimes), Switch, Loongsoul Yellow,… and most normal skin colors that have a very pale pink tone.
LR PEACH is: Harucasting peach (similar to LR normal but slightly more orange. *only Kai 1st version was casted in this color)
LR YELLOW is similar to: Fantasydoll normal, Popodoll normal, Spiritdoll normal… also can match Luts, Volks, Switch, loongsoul normal skin from previous years, especially if the bodies have a yellow tone.
---
Grey
LR GREY is: Fantasydoll #12 special color.
---
New Artist Cast
(Noelle colors)

PEACH (similar to my previous "normal", Luts normal, switch nromal)
SAND (similar to Luts brown, Myoudoll coffee)
CARAMEL (similar to my previous tan, Dollfamily-H tan)
CHOCOLATE (new color, I'm not sure what it matches yet!)
*comparison pictures soon*