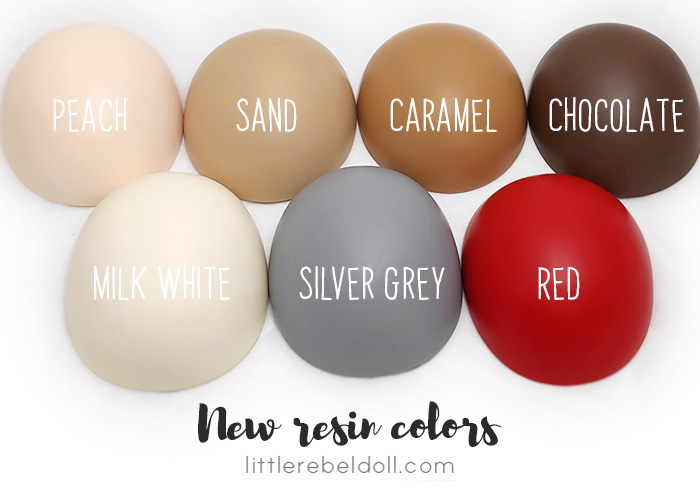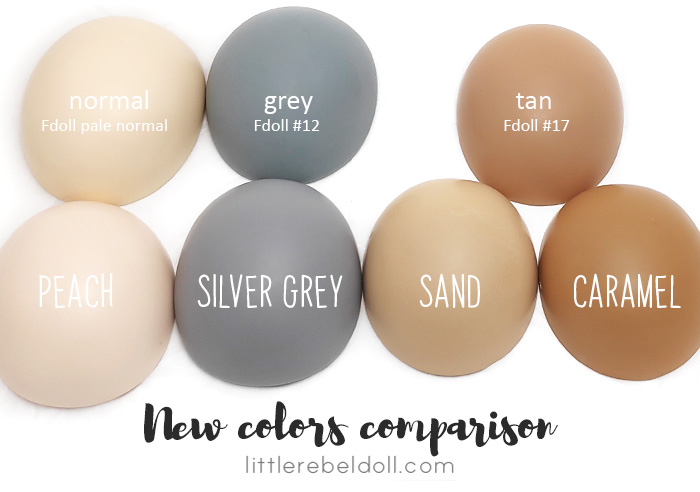 artistcast colors (since 2020)

We create unique colors mixing high quality pigments. The colors might be slightly different in each batch of doll due to the handmade process of each color.
PEACH (is similar to my previous "normal", Fdoll pale-normal, Luts normal, switch normal, etc.)
SAND (is a pale tan color, similar but a bit paler than Luts brown or Myoudoll coffee)
CARAMEL (similar to my previous tan but a bit more rich in color)
CHOCOLATE (new color, I'm not sure what it matches yet!)
MILK WHITE (is similar to my previous "white", Fdoll white, Dollzone, and similar white dolls with an ivory tone)
SILVER GREY (it is a bit paler and less bluish than my previous grey. Maybe similar to Soom grey?)
RED (limited edition color)
Since March of 2020, due Covid19 and months of confinement in Spain, I started to make resin cast of my dolls at home with the help of my couple. We invested a lot of time in trying different resins and pigments, and learning how to make silicone molds. We don't have a proffesional vacuum casting machine but we try to do our best, and we put all our love in making our dolls and to offer more color options and new things.

Thanks you so much for your support and for letting me improving and keep creating dolls :)
Professional casting colors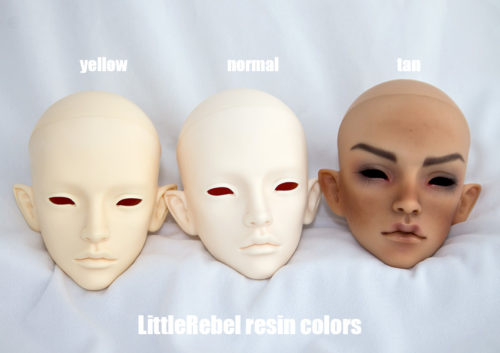 LR NORMAL (fantasy doll pale-normal: similar to Luts normal, IOS normal, DZ pink *sometimes, Switch, Loongsoul Yellow,… and most normal skin colors that have a very pale peach tone.
LR PEACH (Harucasting peach): similar to LR normal but slightly more orange. only dolls casted in this color are Kai 1st version, and André 2nd version.

LR YELLOW-NORMAL (Fantasydoll normal & Harucasting volks) (similar to Popodoll normal, Spiritdoll normal, Volks… also can match Luts, Switch, loongsoul normal skin from previous years, especially if the bodies have a yellow tone).
---
LR BROWN is: Fantasydoll custom color (very similar to tan but more opaque)
LR TAN is: Fantasydoll #17 special color.
---
LR GREY is: Fantasydoll #12 special color.
---
Comparison photos
*Important: These are a few comparisons of LittleRebel dolls resin colors with other companies.
Since the dolls are handmade and produced at different times, each batch can be slightly different in color. Also I have used different casting companies since 2011.
Normal, Yellow, peach
Tan, brown
Grey